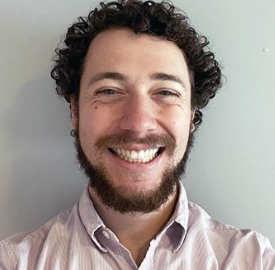 Joseph Clint
  +1 800-331-5232
  +1 505-369-2324
  joseph.clint@sjc.edu
 Undergraduate Territory: AK, ID, IA, KS, MN, MO, MT, NE, NV, ND, OR, SD, UT, WA, WI, WY
Important Facts
Favorite Book at St. John's: I performed As You Like It in college so I'm partial to it. Plato's Apology is also up there.
Favorite Spot on Annapolis Campus: I started at St. John's while working remote so I've never been! I want to see the dark room though, I love film photography.
Favorite Spot on Santa Fe Campus:  Haven't been either but I want to explore the miles of trails behind campus.
Fun Fact:  I'm a diehard Chacos fan. My tan lasts through winter.
From:  Dallas, Texas
Favorite Food: Blueberries and heavy whipping cream… or chips and salsa.
Plato or Aristotle: Easy, Plato.
Hi and welcome to my appointments page! I am really excited to speak with you and talk about St. John's. Please sign up for a slot and let me know in the form whether you are signing up for an informational appointment or admissions interview so I know what to expect. If you don't see a time that works for you, just email me (
joseph.clint@sjc.edu
) and we'll find a time that will. All of appointment times are in Mountain (Santa Fe) Time.